An estimated 30 million people worldwide tuned in at the crack of dawn on Saturday to watch the royal wedding of Prince Harry and Meghan Markle. While much of the talk leading up to the event was about Meghan's family trying to secure a bag, whether her dad would walk her down the aisle or not, and debating the importance of seeing her, a biracial African-American woman, become royalty, there was another question no one could stop asking.
What would she be wearing?
I cant wait to see Meghan's wedding dress already help ???????????????? #RoyalWedding pic.twitter.com/4tShqSRo4D

— ???? Isabella • why don't we? (@belkatschka) May 19, 2018
The collective internet was not disappointed. Meghan stepped out of a burgundy Rolls Royce onto the steps of St. George's Chapel at Windsor Castle wearing a beautiful and simple Givenchy gown.
Credit: Kensington Palace / Giphy
The wedding dress was designed by British designer Clare Waight Keller, who became the first female Artistic Director at Givenchy. No one was surprised Meghan's dress would make a subtle feminist statement considering how outspoken the new Duchess of Sussex has always been on gender equality, particularly in the work force.
According to a release from Kensington Palace, Meghan and Keller worked closely together on the design, hoping to achieve a look that epitomizes "a timeless minimal elegance."
However, as she made her way down the aisle, a few folks on the Internet noticed something very familiar about Meghan's wedding dress.
Anyone else get JLO in the Wedding Planner vibes from Meghan Markle's dress? ???? #whoworeitbetter #royalwedding @JLo #meghanmarkle #theweddingplanner pic.twitter.com/KIa6aO20FS

— Juliann Marie (@Juliann_Brown) May 19, 2018
Meghan's dress is almost exactly like Jennifer Lopez's wedding look from "The Wedding Planner." The boatneck neckline, the simple, understated elegance, the three-quarter length sleeves! It's totally the same, only Lopez's is a shorter and has buttons on the sleeves. Even the hair looks similar!
Pop culture sleuths were totally putting two and two together, and the evidence is pretty solid.
MEGHAN MARKLE'S WEDDING DRESS WAS INSPIRED BY JENNIFER LOPEZ FROM THE MOVIE ' THE WEDDING PLANNER' pic.twitter.com/6KpRuhP2Wv

— stephanie (@ohlopezxblunt) May 20, 2018
Even the dress haters who called it too plain changed their mind once they realized the connection.
Sure the dress was simple, but come on. It's a royal wedding! Of course her dress would be understated. Regardless of your opinion of Meghan's – or J.Lo's – wedding look, I think we can all agree that the duchess looked absolutely stunning and, most importantly, happy.
And let's not forget, Prince Harry seemed stoked on his bride.
"You look amazing." :bites lip: How could you not swoon at that!
And he remembered who the lucky one is in this marriage.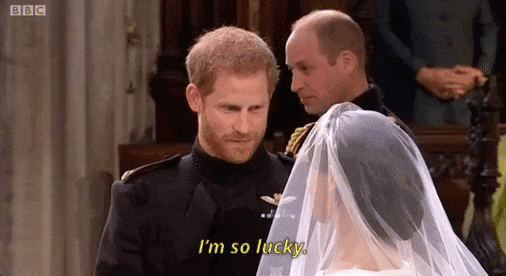 Damn right!
Congrats to the Duke and Duchess of Sussex!
[br]
So, who do you think wore it best? Meghan or J.Lo? Vote in the comments!