By the end of last year, complaints of gender discrimination and harassment in the entertainment and politics industries popped into our newsfeed on an almost weekly basis.
Time's Up, an anti-sexual misconduct initiative led by women of the entertainment industry, has been working to further the momentum of the movement even more. The initiative has pushed #MeToo into realms that have extended its efforts into the auto, sports, political and public transportation fields.
This week it's looking like it's the tech industry's turn to endure the wrath of millions of women fed up with the bullshit.
This week's Me Too-inspired hashtag is #CESSoMale and it targets the Coachella of tech events.
No excuses #CES2018. Women's voices belong on keynote mainstage. Make it happen in 2019. #CESSoMale #genderavenger https://t.co/Ba1tzzDO49

— Gina Glantz (@glantzings) January 9, 2018
The hashtag has been operating as a strike on the Consumer Electronics Show (CES), the world's largest tech gathering of the year.
Earlier this week, CES kicked off its annual trade show with over 180,000 attendees crowding to Las Vegas convention halls. The event gives big-name tech companies from across the globe a stage to display their up-and-coming trendy gadgets and programs. In past years companies like Toyota, Sony and LG have unveiled plans for groundbreaking projects and pieces of technology.
In this year's lead-up to CES, critics slammed organizers for their all-male lineup of keynote speakers.
There are no women keynotes at #CES2018. ZERO. @CES Women leaders deserve to be in the spotlight, Did you miss the Weinstein, Lauer hoopla? Women. Diversity. We ain't goin' anywhere. #catchup #GenderAvenger #CESSoMale https://t.co/twB1CxgTrC .

— Remy Meraz (@RemyMeraz) December 6, 2017
Toward the end of last year, CES announced a set of six male keynote speakers for this year's 2018 event. It didn't take long for the internet to call out the event for its lack of representation. Five of the six male speakers were white. Users on Twitter quickly lit up the social media platform with #CESSoMale to call attention out the lack of diversity, particularly when it came to the show's complete absence of female keynote speakers.
CES has since added two female keynote speech givers.
Really—There's not one female that can give a keynote at the CES conference? The reckoning isn't just about ending sexual harassment, it's about shifting the balance of power and putting women in equal spaces and places. #CESSoMale

— Areva Martin, Esq. (@ArevaMartin) January 6, 2018
In response to the criticism, a statement from CES representatives apologized for the lack of diversity.
"Diversity matters because to shape the future we need to engage people of different backgrounds filled with creative influences. Diversity is key to innovation," read the statement from CES representatives. Soon after, the tech event tapped Kristin Dollan, the founder and CEO of 605 and Nancy Dubuc the president and CEO of A+E Networks to join the six other male keynote speakers on stage.
For many, CES's effort to add female speakers is a start. But still has a long way to go.
It's a shame that @garyshapiro and @CES don't do more to represent innovative, female-centric companies built by brilliant #femalefounders like @ThisIsKlinger. It is 2018 after all! #womenintech #CESSoMale #CES2018 https://t.co/kVDRgm5fO2

— mia (@mtotheia) January 11, 2018
Particularly because CES has blamed their lack of representation on availability.
CREDIT: The Voice / NBC
In response to the backlash on Twitter, CES tried to blame their keynote speakers on a low presence of women in tech. "To keynote at CES, the speaker must head (president/CEO level) a large entity who has name recognition in the industry," Karen Chupka a senior vice president of the Consumer Technology Association said. "As upsetting as it is, there is a limited pool when it comes to women in these positions. We feel your pain. It bothers us, too. The tech industry and every industry must do better."
Statistics addressing the gender gap in tech have highlighted the fact that in actually, an abundant group of women make up the industry.
Great words from @mcsquared96 on #CESSoMale: "If you want the best possible keynotes at #CES, find women. If 100 women can't make it, reach out to 100 more." https://t.co/N2ydXH7MFQ @mashable #diversity #womenintech

— Geri Johnson (@gejohnson411) January 5, 2018
In fact, research has shown that women have become an imperative part of the trade.
The industry might still maintain a "boy's club" culture, but recent studies show that women-led tech companies perform at rates that are three times more productive than those that are under the operation of male CEOs.
The problem is, the tech world is made up of toxic work environments for women. Sexism and harassment are notoriously rampant amongst companies like Uber and Google who have been hit by lawsuits in recent years for pay discrimination and harassment.
No worries. If this week's protests against the event are proof of anything, it's that  Me Too has come for tech.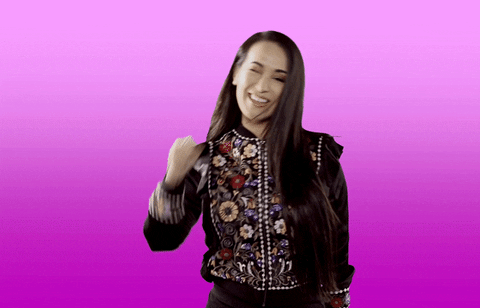 CREDIT: @lamala / Giphy.com
#CESSoMale proves that the tech world needs a major gender parity makeover. And women are ready to make sure it comes through. Get ready, it's time to #runtheworld.
[br]
Read: Women At Last Night's Golden Globes Proved Just How Political Fashion Can Get
Recommend this story by clicking the share button below!